Mark Clasper from Chester-le-Street is taking part in the Great North Run on 9th September on behalf of the Lewy Body Society. Mark's father Ken was diagnosed with Lewy body dementia in 2003. Ken has since become an Ambassador for the Lewy Body Society and writes a blog about his experience of living with Lewy body dementia.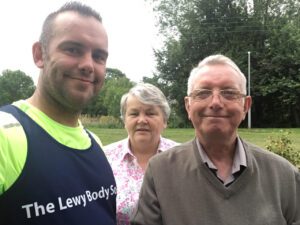 Mark, 38, is married to Tracy and they have two children aged six and one. The family live in Ouston just outside Chester-le-Street, County Durham.  Mark is a maintenance engineer (like his father before him) at Tor Coatings in Birtley, having previously served in the Royal Navy.
Mark has always been sporty, but he has found it harder to run long distances in recent years due to previously undiagnosed asthma and degenerative disk disease in his lower spine.  But he is determined to push on, to keep himself fit and healthy for the half-marathon, and to raise money and awareness of a cause very close to his heart.
Mark's father Ken was just 56 when he was diagnosed with early onset Lewy body dementia.  Despite his symptoms, which include terrifying nightmares and hallucinations, Ken wants to help others with the disease. He writes a blog, is a prolific tweeter and speaks about his experience of living with Lewy body dementia, and is an Ambassador for the Lewy Body Society.  Ken and his wife Janice recently appeared in a video we made and talked about how their lives changed after Ken's diagnosis. For example, they needed to change the carpets in their house as the patterned carpet was making Ken's hallucinations worse.
Speaking ahead of the Great North Run, Mark said:
"I've always wanted to take part in the Great North Run. It's been hard fitting in the training around my shifts and our two children, but I sometimes go out running with my daughter Holly in her buggy! 

"I'm determined to raise as much money as possible for the Lewy Body Society as I've watched this disease tear my dad apart. A once very proud and clever man, who is my inspiration and my hero, he's still determined to help others even though he is living with a terrible condition.

"I don't know how anyone can take something like this and yet still work so hard to try and help people understand the illness, but he has. This is why I want to do all I can to try and raise awareness and if we can raise some money to aid research into the disease then all the better. I wear my Lewy Body Society running vest every time I go training to try and reach out to more and more people."
Mark's fundraising page can be found here and the film featuring Ken and Janice Clasper can be viewed here.