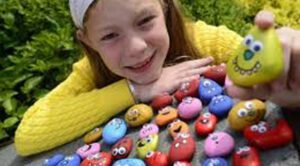 Amy Covell of North Walsham set about her money-spinning after the death of her "gramps" Michael Wade last December.
The 10-year-old has held a cake sale at the Victory pool raising more than £100 and has just completed an 18-mile walk from Wroxham to Aylsham and back alongside the Bure Valley Railway.
But she is also selling her stones with painted faces for the cause.
The article is entitled: 'North Walsham schoolgirl Amy's google-eyed stones raise dementia charity funds in memory of her 'gramps'" Eastern Daily Press website.