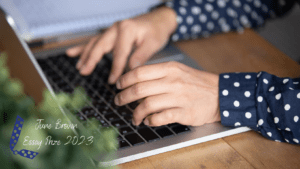 The Lewy Body Society was founded in 2006 and we are the only UK charity that focuses solely on Lewy body dementia. Our mission is to fund research into the disease and to raise awareness and understanding of it among medical professionals and the public. The charity is a member of the Association of Medical Research Charities and runs regular grant rounds for UK researchers to apply for funding, most recently in 2022 when £464,000 was awarded to four studies.
In 2023 we are not running a main funding round, but instead we are establishing an essay competition. It is named in memory of our former Patron, the actress June Brown OBE, who was a huge support to us until her death in 2022. She was interested in Lewy body dementia as her husband Robert Arnold lived with the disease.
The aim of the competition is to encourage a variety of people with an interest in Lewy body dementia to write a thoughtful and original piece about the disease. We will share the winning essays on our website, social media channels and mailing list, and will ask our Specialist Advisory Committee to distribute through their academic and professional networks.
The closing date to be considered for this essay prize is 21st April 2023 at 11.59pm.
Prize Rules and Information
The prompt for the essay prize for 2023 is: 'Shining a light on Lewy body dementia'. An interesting angle on this condition would be welcomed.
There are 3 categories and a £500 prize will be allocated in each:
a. Early career researcher – for example in fields of psychiatry or neurology.
b. A practicing health professional, for example in fields such as Occupational Therapy, nursing.
c. Medical student.
This prize is open to UK based researchers, professionals and students in all years of study. By submitting an entry to the essay prize, you are confirming that this is your own work and that it has not been previously published. Jointly-written entries will not be accepted.
Essays will be reviewed by members of our Specialist Advisory Committee which includes scientists, medical professionals and lay members. The judges' decision will be final.
The word limit (excluding references) for entries is 1,000. If references are used, then a maximum of 15 references (in the Vancouver style) can be provided. These will not count toward the word count. Arial font should be used in 11-point size.
The closing date to be considered for this essay prize is 21st April 2023 at 11.59pm. Please note that entries received after this deadline will not be considered, and that we are unable to provide feedback on individual submissions.
The winner in each category will receive £500, a selection of Lewy Body Society merchandise, and a certificate.
 To apply for the prize, please submit your essay, with your name, institution/employer/university, and year of study (if applicable) to: info@lewybody.org.
Thank you for your interest in our student essay prize. We look forward to reading your entry!