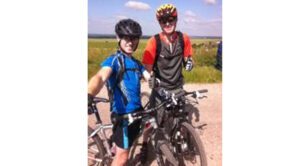 Jake Kendall decided to sign up for the South Downs Challenge to raise money for the Lewy Body Scoiety after his grandpa, John, was diagnosed with DLB in March this year.
Here is Jake's story…." I knew it would be incredibly difficult – a 100-mile mountain bike cycle taking in the length of the South Downs Way including 10,000ft of climbing – but I also knew it would be worth it.
I completed the ride with my step-dad, Mark and despite the hours of arduous training we did in rain, wind or, very occasionally, sun nothing could have prepared us for the actual thing.
On the day we left Winchester at 5.30am and 15 long hours on the saddle later, with every muscle in our body aching and in pain, we eventually crossed the finish line at Eastbourne Pier. It was 9pm, the sun had set long ago and every part of me was sore but I felt very emotional crossing the line, a mixture of immense pride and utter relief. Together we raised almost £600 for the LBS.
To know all the hard work we did would be helping people like my grandpa and all those who care for people with DLB made all the pain disappear and left me feeling like I could have cycled all the way back to Winchester again…"