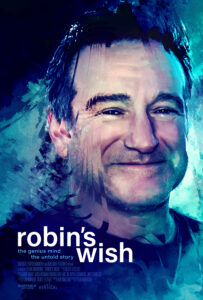 The critically acclaimed documentary ROBIN's WISH was released in the UK on 4th January 2021.  You can watch the trailer on YouTube here.
There has been lots of media coverage around the film which has helped to raise awareness of LBD, including this article on Sky News. This interview with Susan Schneider Williams gives great insight into her mission to understand what happened to her husband and why she wants to support research into Lewy body dementia.
We were delighted to host an online event on 8th January with the film's director Tylor Norwood and attendees heard about the motivation behind the film and the impact he hopes it will have. On the night there were a number of questions that our panel didn't have time to respond to so we have answered them here.
The film is available across a range of platforms, including iTunes, Amazon, Sky Store, Virgin Movies, Rakuten, Chili, Microsoft and Google for digital and download.
Directed by Tylor Norwood (also serving as producer and cinematographer), the film relays the legend of Robin Williams, and investigates his final few months. With the support of Robin's widow, Susan Schneider Williams, and several close friends and colleagues, ROBIN'S WISH underscores what made Robin Williams such a beloved figure, and details how a surprise diagnosis of Lewy body dementia helped answer questions surrounding his death.
ROBIN'S WISH tells the powerful true story of actor/comedian Robin Williams' final days. For the first time, Robin's fight against a deadly neurodegenerative disorder, known as Lewy body dementia, is shown in stunning detail. Through a gripping journalistic lens, this incredible story sheds an entirely new light on the tragedy, beauty and power behind the mind of one of the greatest entertainers of all time.
Norwood comments on his film:
"It is a moment for us to understand the pain he felt as his talents and faculties rapidly slipped away, and moreover how in the face of that terrifying reality, he was more heroic, more compassionate than any character he ever played in any of his movies. So I hope this film rights a wrong that was done to him, and takes away a cloud that has unjustly hung over his legacy for far too long."
A must-see for admirers of Robin Williams, as well as film fans across-the-board, ROBIN'S WISH is a poignant eulogy to the entertainment legend. It will be available on digital and on demand from January 4th, 2021.
Speaking ahead of the release, Jacqui Cannon, Chief Executive of the Lewy Body Society said:
"Lewy body dementia is the second most common type of dementia in older people, yet it is a disease that few people have heard of.  Robin's Wish is a rare opportunity to raise awareness of Lewy body dementia with a mass audience and it highlights the challenging symptoms, the problems with diagnosis, and ultimately the distress the disease causes to people affected by it.

"We are grateful to Susan Schneider Williams and the rest of Robin Williams' friends, family and colleagues for participating in this film, as raising awareness will help boost the research effort here in the UK and globally, helping us to improve the diagnosis and treatment of the disease.

"The film may be a difficult watch for those of us personally affected by Lewy body dementia and we will ensure that support is available for anyone who needs reassurance, advice or information."
Further information about Lewy body dementia, our work as a charity, and information materials are available on our website www.lewybody.org.  Our book A Guide to Lewy body dementia can be downloaded for free, and individuals in the UK can order a free hard copy. You can also register for our email newsletter to be notified of events, new materials and to keep up to date with research into Lewy body dementia.
The Admiral Nurse Dementia Helpline is run by Dementia UK and is for anyone with a question or concern about dementia. It is staffed seven days a week by specialist dementia nurses, Admiral Nurses, and is free to call.
0800 888 6678 or email helpline@dementiauk.org
Open Monday to Friday 9am-9pm and weekends 9am-5pm.