Bystanders were taken aback by a huge scarf wrapped around the entire circumference of the Royal Albert Hall in London today, all in support of a dementia charity.
The Lewy Body Society appealed for people from across the country to knit their own scarf to make up the mile-long scarf, which was proudly displayed around the iconic London landmark.
The huge scarf project – #AScarfForLewy – was the charity's way to show support for those living with Lewy body dementia, raising awareness of this very often misdiagnosed condition, and to symbolise the wraparound support available for those living with the disease.
Actress Susan Hampshire CBE, the star of many film and TV classics including The Forsyte Saga, The Pallisers and Monarch of the Glen, attended on the day and supported the event due to her personal connection with dementia, having cared for her husband Eddie who lived with the disease for 12 years until his death in 2021.
Susan said: "This was a wonderful project – not only was it a unique way of raising awareness of Lewy Body dementia but brought so many people together through knitting. I know first-hand how challenging it can be looking after someone with dementia, so it was wonderful to speak to other carers on the day."
More than 100 volunteers attended to wrap the scarf around the iconic landmark and were ably helped by much loved actor and writer, Christopher Biggins.
Other celebrities who showed their support with a knitted contribution included Dame Prue Leith DBL, TV presenter Anne Robinson, and actress Paula Wilcox, who currently stars in ITV's Coronation Street as Elaine Jones.
The Lewy Body Society funds research into Lewy Body dementia, a little-known type of dementia that is very different to the most common type, Alzheimer's disease, and requires different support and treatment. It is the only UK charity focused exclusively on this type of dementia, and was the first in Europe.
It's estimated that around 100,000 people in the UK have Lewy body dementia, around 10-15 per cent of those with dementia. It can cause the motor problems associated with Parkinson's disease, hallucinations and sleep problems, as well as the progressive decline in cognitive abilities found in other forms of dementia.
Jacqui Cannon, Chief Executive of The Lewy Body Society, said: "We're incredibly grateful to Prue and her fellow celebrities for their contributions, and to all the knitters up and down the country and internationally who've got out their needles in support of A Scarf for Lewy.
"We've been blown away by the support and the finished product, which has given the Royal Albert Hall its own big hug! The aim of the scarf is to showcase the huge amount of wraparound support that we can offer those living with Lewy body dementia and their families, as it's so often misdiagnosed, and not enough people know about it.
"We hope more people will become aware about the condition and show their support to families affected by the disease through this unique event."
Once taken down from the Royal Albert Hall, the scarves will be will be distributed to homeless charities across the capital.
-ends-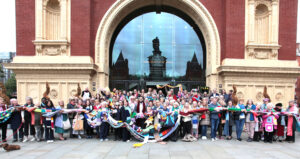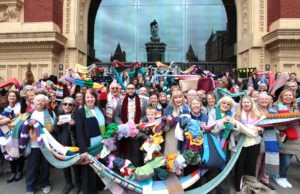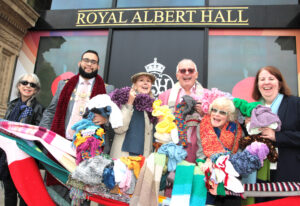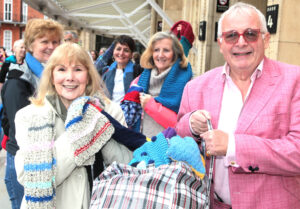 Notes to editors
It is believed that 944,000 people in the UK have dementia, and studies have shown that at a conservative estimate 11% of these could have DLB.  This would mean that 104,000 people living with the disease, fewer than a quarter of whom have received a diagnosis. (Source ARUK and Stevens et al).
No national diagnosis figures are available as the NHS does not collect statistics on dementia sub-types, but it is believed that around 24,000 people are living with a diagnosis of dementia with Lewy bodies (based on a 4.6% diagnosis rate of the 517,412 people with a dementia diagnosis across UK – sources Diamond-Lewy Kane et al and ARUK Statistics Hub).
However, this understates the number of people living with the disease, as only 62% of dementia cases in over 65s in England are diagnosed (NB this varies across UK).
Note: These figures are for 'dementia with Lewy bodies', which is diagnosed when a person first experiences the cognitive and behavioural symptoms associated with the disease. A further group of people first experience the physical symptoms associated with Parkinson's disease, and when they later develop cognitive symptoms, their diagnosis is given as Parkinson's disease dementia. Both dementia with Lewy bodies and Parkinson's disease dementia come under the umbrella of Lewy body dementia but research studies often look at the two groups separately. Some studies have reported prevalence of higher than 11% – indeed some post-mortem research find Lewy body pathology in 20-25% of cases.