The Lewy Body Society and Dementia UK have today published a new leaflet to support people living with the disease, their families and carers, to manage a common and at times distressing symptom.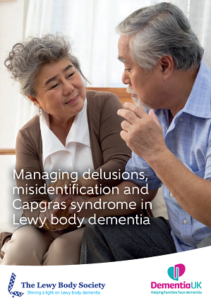 People with Lewy body dementia are more likely to experience symptoms of delusion and misidentification (ie not recognising someone or something) than those with Alzheimer's disease or vascular dementia.
'Capgras syndrome' is a 'delusion of misidentification'. It involves the person believing that a friend, spouse or other close family member has been replaced by an identical looking imposter.
The leaflet can be downloaded here, along with our other information materials, and you can also contact us to request a hard copy if required. We also have a recording of a webinar on the subject available here on our YouTube channel.