The current coronavirus crisis is extremely worrying for people living with Lewy body dementia, their families and carers. The team at the Lewy Body Society is heartbroken at the loss of so many of our fellow citizens, and humbled by the selfless efforts of those working in our health and care systems.
For people with dementia, the loss of normal routines can be particularly challenging, and not being able to visit loved-ones in care homes or hospitals is distressing for carers.
This week we wrote to the Health Secretary Matt Hancock MP to raise two important issues on behalf of people affected by Lewy body dementia.
You can read the full letter here: LBS Letter to SOS DHSC re COVID19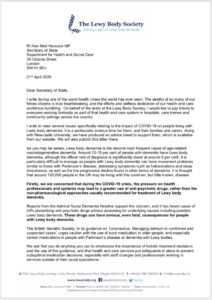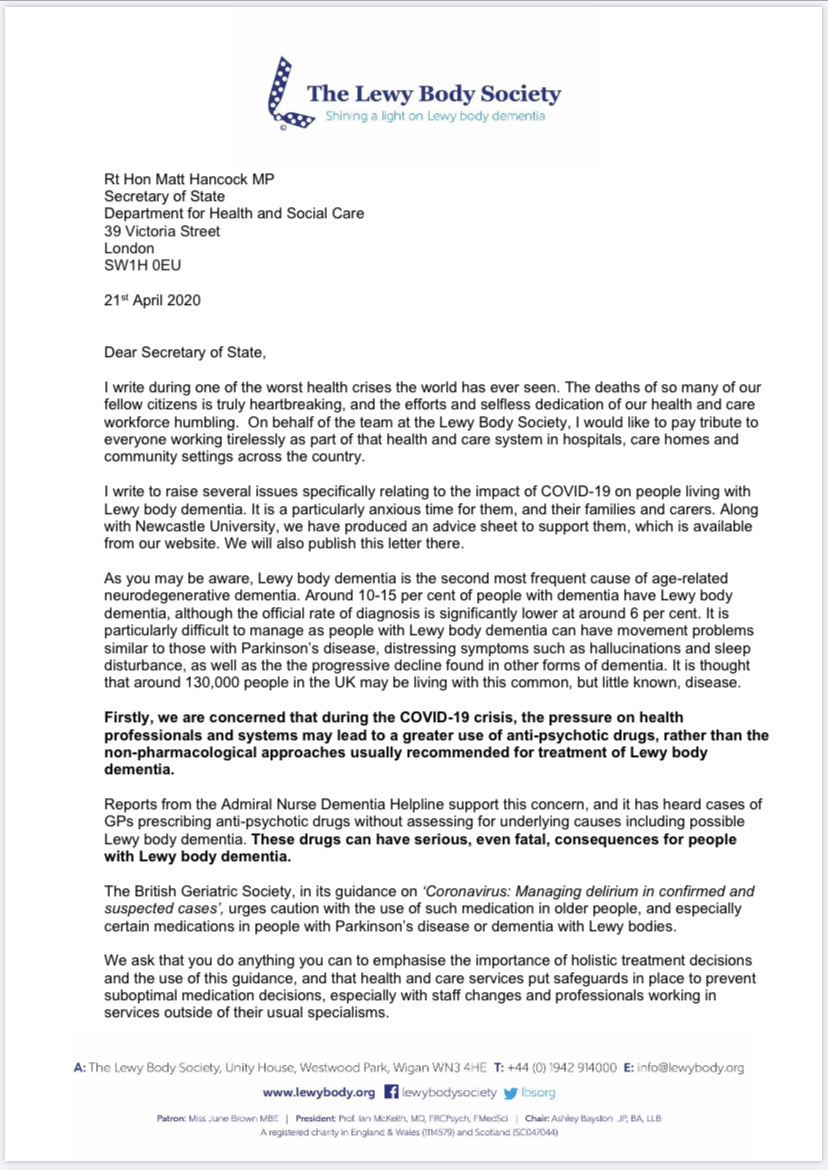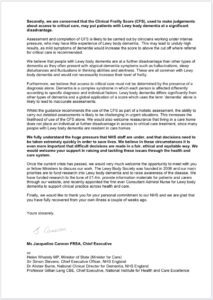 The letter raised two important issues:
1.  Firstly, our concern that pressures on the NHS and health workers may mean a greater use of drugs to treat people with LBD rather than the non-pharmacological treatments that are usually recommended.  Certain types of antipsychotic drugs can be very dangerous, even fatal, to people with LBD, so decisions must still be taken very carefully and with a full assessment. The British Geriatric Society has urged caution in the use of drugs to manage delirium in its coronavirus guidance.
2. Secondly, we asked questions about the use of the Clinical Frailty Score to assess when someone with COVID-19 should receive access to critical care. We are concerned that people with LBD will be at a disadvantage, and receive unduly high scores in this assessment. We also suggested that the blanket diagnosis of 'dementia' is too broad to base decisions on, when the experience of living with dementia can vary so much.
Those working in the NHS have our full support and we understand the pressure they are under and the need for very quick decisions to save lives, but this is all the more reason to ensure that decisions are made in a fair, ethical and equitable way.
You can read the full letter on our website and we have sent a copy to the Minister for Care Services Helen Whately MP, and the Chief Executives of NHS England and NICE (which is responsible for the Clinical Frailty Score guidance).
If you wish to write to your MP about these issues you may use our letter as a basis. Let us know if you have a response.
We will continue to speak up for people living with Lewy body dementia, their families and carers, during the current COVID-19 crisis and beyond.
Stay safe, and don't forget you can also find an advice sheet on our website here or call the Admiral Nurse Dementia Helpline to speak to an expert.