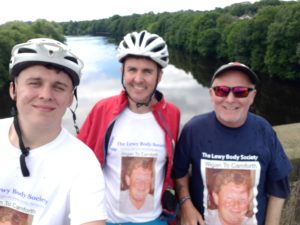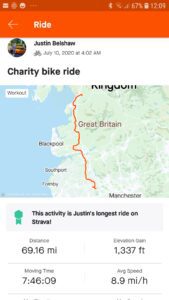 We would like to thank Joe, Stephen and Justin Belshaw from Wigan, who completed a 69 mile cycle from Wigan to Carnforth in memory of their friend Trevor Mitchel, raising over £1500 for the Lewy Body Society.
The trio – three generations of father and son aged 62, 40 and 17 – are passionate about supporting Lewy body dementia research after seeing their close family friend Trevor struggle with the disease and sadly pass away last year at the age of 66.
Stephen's moving words explain why they undertook this challenge and what Trevor meant to them.
Our dear family friend Trevor Mitchell sadly passed away on 09/08/19 at just 66 years old after a long period of suffering with Lewy Body Dementia. 
A bit of background. Trevor was initially a friend of my dad's, but from early in my 20s he also became a friend of mine. They met through work in around 1985 and soon formed a very strong bond. They shared a love of Wigan Rugby and a love of golf. They travelled all over watching Wigan Rugby and also playing golf. This took them all over the place – England, Wales, Scotland, Spain, you name it! 
I was young at the time they met, only 5 ( I'm now 40). About my earliest memory of Trevor is remembering my gran teasing my dad after they'd been together for a day out golfing or to the rugby. She'd ask him if he'd been out with "his minder" again. If you saw them together, you'd know why. Trevor was 6'5" and around 17 stone in his hey-day and that's the way we like to remember him. Later in life I played golf many times with Trevor enjoying trips to his beloved Houghwood in Billinge and many amusing trips to Wales. 
Trevor was a selfless man and very skilled in handiwork. Everywhere you look at my dad's house there are lasting reminders of Trevor, from the back garden patio that he laid to the Dado rails that he installed throughout the house. He never once accepted a single penny for a single job that he did! All done over 20 years ago and still as good as new! 
Another selfless act that sticks in my mind is from a time before my mum could drive. Trevor took us all (me, my mum, dad, and my brother) on Holiday to North Wales before returning to pick us up a week later. A 400-mile round trip! And he refused to take any money for fuel. 
Above is testimony to my dad's summary of Trevor – "a gentleman" and he "could not speak any higher of him". 
The cycling event was my dad Joe's idea. My son Justin is also taking part. My dad has said that after a lifetime of Trevor helping my dad in one way or another, now it's his turn to do something for Trevor. Raising money for your charity to help with your mission to research into and raise awareness of LBD is his way of doing it. 
Seeing Trevor's Health deteriorate was heart-breaking. If we can help ever so slightly, by raising money to research into and perhaps one day prevent the illness, aid sufferers and their friends or families then we will."
We're sure Trevor would be very proud of your efforts, and the funds raised will make a huge difference to our work.