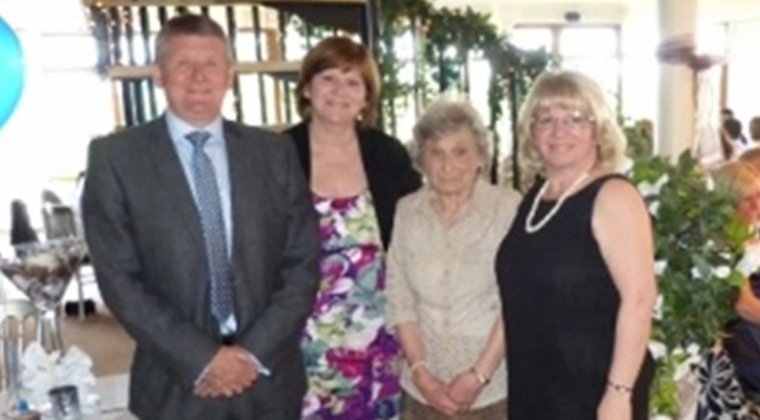 The family of Gwil Debnam of Ince near Chester have held a Dinner Dance and Auction in his memory, to raise awareness of dementia with Lewy bodies, which he battled for five years, and support the work of the Lewy Body Society. The Dinner Dance took place on Saturday 15th June – to coincide with Mr Debnam's birthday – at The Oaks Golf Club in Mollington, Cheshire.
"It was a fabulous and emotional night," declares Gwil's daughter, Pam Jones. "We are overwhelmed with the support of friends and the generosity of all the organisations who donated gifts for the auction. Money is still coming in but we've already raised £1,800".
Mr Debnam's family would like to thank all the businesses who gave such generous support: Andrew Collinge, Az u Wear, Beaverbrooks, Everton Football Club, Gary Jules Hair and Beauty Salon, Haircraft Studio, Headquarters, Jayz Beauty, Life Photo, Manchester United Football Club, Nails and Beauty Caroline, Next, The Oaks Golf Club, and The Stamford Bridge.
Dementia with Lewy bodies is the second most common type of dementia, accounting for around one in six cases and affecting an estimated 515 people in the West Cheshire CCG area.
Chief Executive of the Lewy Body Society, Jacqui Cannon, explains, "Dementia with Lewy bodies is quite common but is often poorly recognised, which is why we're so grateful to Mr Debnam's family for raising awareness in this way. Small things, like wearing a Lewy Body Society wristband, help to get the message out, which is vital so that people can get the correct diagnosis and the care and support they need."
Pam observes, "The whole family felt absolutely devastated when Dad died last August. Dementia with Lewy bodies is a cruel illness and watching our strong, wonderful caring, funny Dad deteriorate was the hardest, saddest, most heart-breaking thing we have ever had to endure. Life won't ever be the same again but we feel we've brought some good out of a terrible loss by making people more aware."
The Lewy Body Society warmly thanks Mr Debnam's family and friends for all the awareness and funds they have raised. If you would like to arrange an event that will support the work of the Society, please get in touch. Many thanks!
Pictured: Mr Debnam's wife, Peg and children (L to R) Steve, Pam and Kay