Dementia Action Week takes place from 17-23 May 2021 and we are supporting Alzheimer's Society and other dementia charities in calling for governments in th UK to fix the broken care system.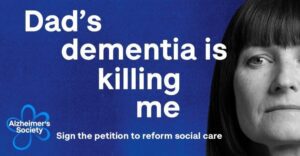 This powerful film shows how without support, dementia can claim more than one life.  It is a message we wholeheartedly agree with, and we receive many calls and emails from families struggling to cope without enough support.
Right now, the broken social care system means that in the UK, nearly 1 million people with dementia and their families are struggling to get the support and care that they need and deserve.  Decades of underfunding and neglect have led to a care system that's difficult to access, costly, inadequate and deeply unfair. The coronavirus pandemic has exposed these problems like never before.
Until things change, a dementia diagnosis will continue to claim more than one life, as families facing dementia feel its destructive effects.
It doesn't have to be this way.
This Dementia Action Week,  Alzheimer's Society is calling on governments to cure the care system now. To provide quality social care, that is free and easy to access, no matter where you live.  Because while dementia isn't curable yet, the care system is.
Sign the petition to 'cure the care system' here.