Join Dame Prue Leith DBL and knit 'A Scarf for Lewy' to wrap around the Royal Albert Hall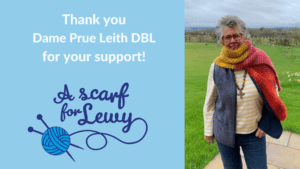 A Scarf for Lewy, the campaign by The Lewy Body Society to wrap the Royal Albert Hall in a huge scarf to raise awareness of Lewy body dementia, has been given a boost with the support of chef and broadcaster Dame Prue Leith DBL.
Dame Prue has joined dozens of volunteers who have already contributed a scarf, with the charity aiming to join together enough scarves to wrap around the entire 244 metre circumference of the building, in an event to be held on 22nd September 2022.
Knitting groups and individuals are welcome to contribute and help raise awareness of Lewy body dementia, the second most common type of dementia in older people.
Lewy body dementia is a little-known type of dementia that is very different to the most common type, Alzheimer's disease, and requires different support and treatment. It can be very challenging to live with and is often misdiagnosed. The charity wants more people to know about Lewy body dementia so that those affected get better support, and there is more scientific research into the disease.
Jacqui Cannon, Chief Executive of The Lewy Body Society said:
"We are incredibly grateful to Prue for her support, and to all the knitters up and down the country who have got out their needles in support of A Scarf for Lewy. Through this unique event we hope more people will hear about Lewy body dementia and show their support to families affected by the disease."
Notes to Editors
Further details can be found at AScarfForLewy.org.uk.
Scarves should be 30cm/ 12 inches wide and can be any length.
They should be posted to
A Scarf for Lewy
c/o Green Tree Court
81 Harrington Lane
Exeter
EX4 8NS
The deadline for receipt of scarves is 15th August 2022 and they will be wrapped around the Royal Albert Hall on 22nd September 2022.