Update 14/12/2020: thank you to everyone who watched the concert 'live'. If you missed it you can still watch via our YouTube channel here or find it on our Facebook page.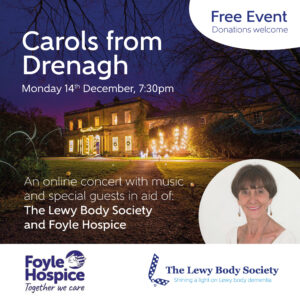 Due to COVID-19 restrictions, the usual Christmas concert organised by harpist and pianist Les Magee at the beautiful Drenagh House in Northern Ireland cannot take place this year.
Instead, we will bring Drenagh to you!
A range of talented contributors will perform carols and Christmas readings in advance, which will be packaged into a film of around 45 minutes in length, that you can watch from the comfort of your own home.
The concert will include a special guest appearance from The Lewy Body Society's patron June Brown.
Register now at https://carolsfromdrenagh.eventbrite.co.uk.
The concert will go live on YouTube and Facebook on Monday 14th December at 7:30pm, and will be available for repeated viewing afterwards.
It is free but there is a suggested £10 donation to raise funds for The Lewy Body Society and Foyle Hospice in Northern Ireland.
You can donate via Virgin Money Giving here.
Or text MINCEPIE 10 to 70085 to donate £10. (Or text MINCEPIE 20 to donate £20 etc).
All proceeds for the event will be split between two charities – The Lewy Body Society and Foyle Hospice.
Our thanks go to Drenagh House which has allowed the recording of some performances, and to all the performers.
About the charities
The Lewy Body Society is the only UK-based charity dedicated exclusively to Lewy body dementia, the second most common type of dementia in older people. We fund research into Lewy body dementia, with a hope of one day finding a cure, and we provide information and support to those affected by the disease.
Over a period of 35 years, Foyle Hospice has become synonymous with palliative care services and support across the North West of Ireland