Thank you to Heather Ritchie for sharing her story as part of the Carers Week report. Read the report and recommendations here.
Carers Week charities are calling for an urgent 12-month plan of targeted support for unpaid carers, as many struggle with the ongoing impact, as well as the legacy, of the pandemic, together with the strain of the social care and cost of living crises.
For the first time, the impact of caring on their own physical and mental health has topped carer's concerns, closely followed by money worries.
The research, released for Carers Week 2022 (6-12 June), reveals that 84% of the general public think that the UK governments should provide additional support to unpaid carers including increased financial support and investment in care and support services so that unpaid carers can have a break. Only 3% disagreed.
The report also shows that the number of unpaid carers remains higher than before the pandemic with one in five of the UK's adults (approximately 10.58 million people) now supporting a relative, close friend or neighbour because of chronic illness, including mental ill-health, dementia, disability, or older age.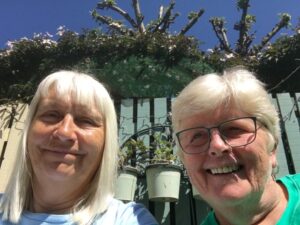 Heather's Story
My partner Chris was diagnosed with early onset Lewy body dementia at the age of 60.
Chris is a very active campaigner, gives lots of talks and is an ambassador for several charities, including The Lewy Body Society. I want to support her to do these things and live her life as she wants to, but the support she requires has significantly increased during the Covid-19 pandemic.
Chris has gone from being a person being able to travel to meetings on her own and giving talks, to now needing much more support to do this. She needs someone to accompany her and needs reassurance.
Chris was classed as clinically vulnerable and wasn't allowed to leave the house for significant periods of time, not even to have a walk. Due to this her mood and symptoms have declined, and she has lost confidence. This directly impacts on the time I have to look after my own well-being.
Her medication used to be put into dosette boxes by the pharmacy which ensured the right tablets were in order and labelled for morning, evening and night-time. Due to Covid this was withdrawn and has never been reinstated. This meant I had to purchase our own boxes and still have to take on the extra responsibility for sorting out all the medication into correct time zones. She is on about 30 different tablets per day and I have to prompt her to take the tablets.
I get less of a break as I am far more worried about leaving Chris for longer periods now. Not only does she forget to take medication, but she struggles to prepare food and eat meals without reminders.
I have little to no confidence in getting the support we will need in the future from official sources and expect to be heavily reliant on support from charities supporting those living with dementia and carers groups. We will probably have to use all our savings to pay for care, and I fear we will live out our last years in poverty. I don't understand why dementia is classed as a social care problem. As a terminal, life-limiting brain illness it should come fully under health care. We urgently need the Government to do something about this.