We were delighted to be the chosen charity for the Chapter House Choir's annual Carols by Candlelight concert last Saturday in the nave of York Minster, and for the 1,400 attendees to have learned a little about Lewy body dementia through the introduction from the Dean of York.
The choir, directed by Benjamin Morris, was joined by the Chapter House Youth Choir, directed by Charlie Gower-Smith, the Handbell Ringers of the Chapter House Choir and York organist William Campbell for a feast of festive music, combining familiar carols with new and exciting compositions.
The concert was dedicated to the memory of Dr Alvan White who was the choir's 'Candlelighter-in-Chief' for these concerts from 2003-2018. Alvan died in August 2022, having lived for some years with Lewy body disease. To mark his long and happy association with the choir, the collection at the end of the concert was in aid of The Lewy Body Society and over £1300 was raised.
Alvan's, daughter Rachel Hicks, is a member of the choir and commented:
"When we needed someone to light the candles for our concerts almost twenty years ago, I knew this would be the perfect job for my Dad. He was a retired chemistry lecturer who had learned the skill of glassblowing to mend lab equipment, so my childhood memories of visiting him at work were of him working with fire! Who better to come to the Minster and light hundreds of candles for our concerts? Dad loved classical music so this was an ideal combination. As a family, we are honoured that his contribution to the life of the choir is being recognised in this way and that we can support further research into what we know, first-hand, to be a challenging and complex condition."
Dr Alvan White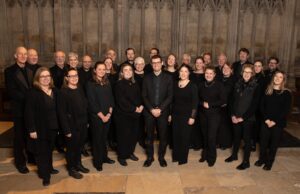 Credit: Duncan Lomax, Ravage Productions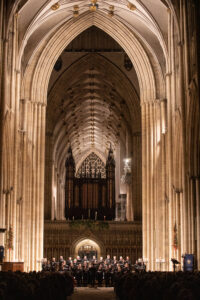 Credit: Duncan Lomax, Ravage Productions