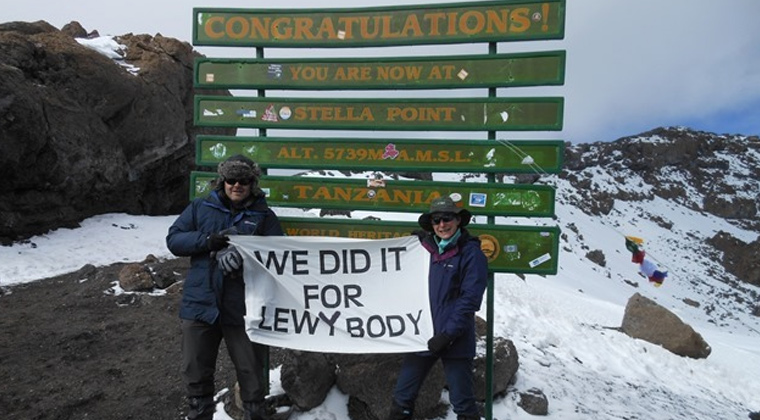 Families hit by a Lewy Body Dementia can feel they've got a mountain to climb as they face the impact of the symptoms, grappling with health and social care arrangements and sometimes holding on by their finger-tips to a sense of normality. Now Andrea and Sean have scaled an iconic peak, Kilimanjaro, the highest freestanding mountain in the world — and a dormant volcano — to raise awareness and funds to help people affected by a Lewy Body Dementia. Andrea lost her Mum to the condition recently and is passionate to improve care and support for others affected. To support them in facing up to the mountain, visit Andrea and Sean's JustGiving Page or text TYNB 99 to 70070.
Andrea and Sean completed their descent of Kili on the same day another intrepid Lewy Body Society supporter, Kate Griffin starts her climb. You can read how Kate's experience of her Dad's Lewy body dementia has spurred her into taking on the mountain.
Thank you to Andrea, Sean, Kate and everyone who helps the Lewy Body Society raise awareness and fund research. If you would like to extend our help through an event or activity, please get in touch. Thank you.