Symptoms
Each case of dementia with Lewy bodies (DLB) is as individual as the person living with it. Different people will show different combinations of symptoms. At present a diagnosis of DLB can only be confirmed by autopsy but a careful clinical evaluation of the patient and his or her symptoms can, in many cases, form the basis for making a reasonably confident lifetime diagnosis.
The symptoms of DLB can be grouped as central, core, suggestive or supportive [1].
---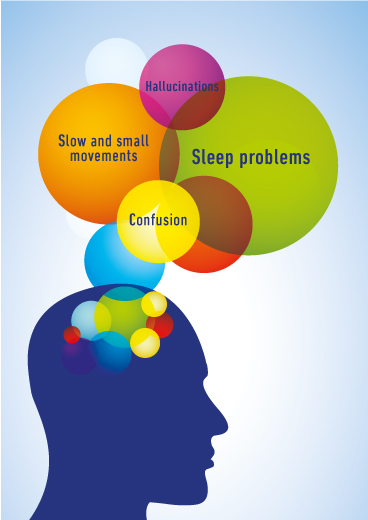 The central symptom of dementia with Lewy bodies is dementia, or progressive mental decline serious enough to interfere with normal daily activities. Significant memory loss may not develop until later. There may also be problems with attention, problem solving and spatial awareness. This can easily be mistaken for Alzheimer's disease or for Parkinson's disease (PD) with dementia.
References
McKeith I.G., Dickson D., Emre M. et al., Dementia with Lewy Bodies: Diagnosis and Management: Third Report of the DLB Consortium, Neurology 65 (12) (2005), 1863-1872
McKeith I.G., Mintzer J., Aarsland D., Burn D.,Chiu H., Cohen-Mansfield J., et al, Dementia with Lewy bodies. Lancet Neurol 2004; 3: 19-28
Mosimann U.P., McKeith I.G., Dementia with Lewy bodies — diagnosis and treatment. Swiss Med Wkly 2003; 133: 131-42
Knopman D.S., Boeve B.F., Petersen R.C., Essentials of the proper diagnoses of mild cognitive impairment, dementia, and major subtypes of dementia. Mayo Clin Proc 2003; 78: 1290-308
Burn D.J., McKeith I.G., Current treatment of dementia with Lewy bodies and dementia associated with Parkinson's disease. Mov Disord 2003; 18 (suppl 6) : 572-9