On 22nd September 2022 we are holding an event with a difference…
We are going to wrap a huge scarf around the entire circumference of the Royal Albert Hall in London, a massive 244m.  All to raise awareness of Lewy body dementia, the second most common type of dementia in older people.
Lewy body dementia is a little-known type of dementia that is very different to the most common type, Alzheimer's disease, and requires different support and treatment. It can be very challenging to live with and is often misdiagnosed. We want more people to know about Lewy body dementia so that those affected get better support, and there is more scientific research into the disease.
We need as many people as possible to get involved with this unique challenge and you can help by knitting a scarf, and by posting your support on social media with the hashtag #AScarfForLewy.
Volunteers will sew together all the individual scarves and we will transport them to the Royal Albert Hall for our event.
If you run a knitting group you could all knit together.  Here is a poster you can print and display, to let people know about the project.  We would love to see your progress pictures!
The deadline for sending your scarf is 15th August 2022.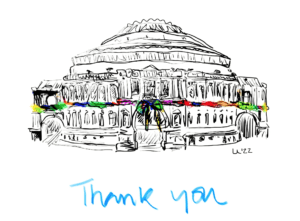 Q&A
What does my scarf need to be like?
Your scarf should be 30cm/1 foot wide and can be any length (the longer the better).
It can be any yarn, any stitch and any pattern. It can be any colour, plain or with stripes or spots. The Lewy Body Society's brand contains dark and light blue, with polka dots, but don't feel you have to stick to these!
Where do I send my scarf?
Please post your scarf to the following address:
A Scarf for Lewy
c/o Green Tree Court
81 Harrington Lane
Exeter
EX4 8NS
The deadline for receipt of scarves is Monday 15th August 2022.
I can't knit, how else can I show my support?
You can donate a scarf that you no longer need, as long as it's in good condition, knitted and the right size. You can help us raise awareness of the project online by taking a selfie wearing a scarf and holding this sign. Share it on your social media with the hashtag #AScarfForLewy or send it to us to post on our channels.
What will happen to the scarves afterwards?
The scarves will be separated and we will offer them to homelessness and refugee groups to try to ensure they are put to good use.  If we have any celebrity scarves we will auction them to raise funds for The Lewy Body Society.