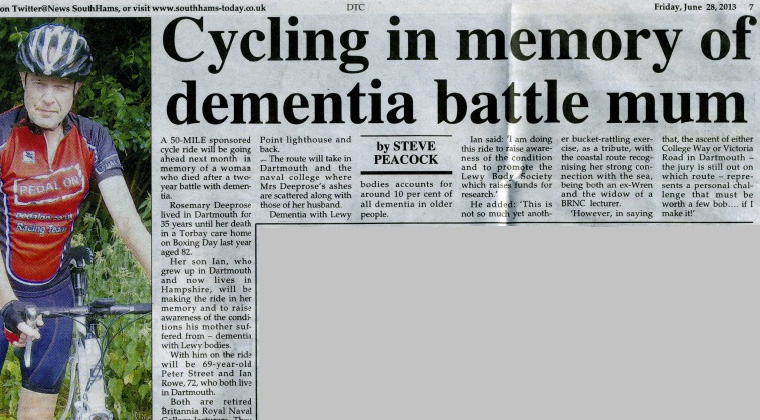 On Wednesday 24 July, Ian Deeprose cycled a coastal route of 50 miles from Mount Tryon in Torquay to Start Point lighthouse and back, in memory of his mother, Rosemary Deeprose, who passed away at Mount Tryon Care Home on Boxing Day 2012, following a two year struggle against dementia with Lewy bodies.
Two of Ian's father's ex-colleagues from Britannia Royal Naval College (BRNC), Peter Street (69) and Ian Rowe (72), were riding with him to raise awareness of the condition and to promote the Lewy Body Society.The route will take in Cypress Court in Paignton, BRNC where Mrs Deeprose's ashes were scattered, Churchfields in Dartmouth where she lived for 35 years from 1965 until 2010 and the Start Bay Inn for a crab sandwich and a toast.
Mr Deeprose explained: "This was not so much yet another bucket rattling exercise, as a tribute, with the coastal route recognising her strong connection with the sea, being both an ex-Wren and the widow of a BRNC lecturer."
Highlights of the ride were a free banana from the kind car park attendant, Andrea, at Start Point, the Torcross cramp dance performed by Peter Street and the ascent of Mince Pie Hill (A category 4 climb (so named because after ascending it in the past Ian Rowe had demolished a box of 6 to replenish his reserves). Reflecting on the ride, Mr Deeprose commented, "I now know that 50 miles in Devon is worth 75 in Hampshire!"
For more coverage of Mr Deeprose's ride, please click here.
Our warmest thanks to Mr Deeprose, his cycling companions and all who have supported them for helping to extend the reach of the Lewy Body Society through this tribute to Mrs Deeprose.
To make a donation to the Lewy Body Society, please click on the donation button on the right of web page, email us or call 0131 473 2385. Thank you.