Once again we have another fantastic group of runners taking part in the Great North Run, the iconic Newcastle half-marathon which takes place on Sunday 8th September. 
All of our runners have been personally affected by dementia, and several are currently caring for someone living with Lewy body dementia.  We are so grateful for their efforts in raising awareness of the disease, and helping us raise money for vital research, to help those affected by the disease in future. Here we tell you a bit about the team members and why they chose to support the Lewy Body Society.
Samantha
Sam's grandad Colin has recently been diagnosed with Lewy body dementia and is now living in a care home which is close to his family and provides him with the care he needs. She told us how the stress of his illness and length of time it took to get a diagnosis has given her the drive to complete her first half marathon, to raise awareness and help other families going through the same.
Sam, who is a hairdresser and beautician from Hebburn, will be cheered on by her partner Graham and her children Maisy and Harry.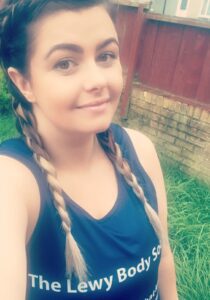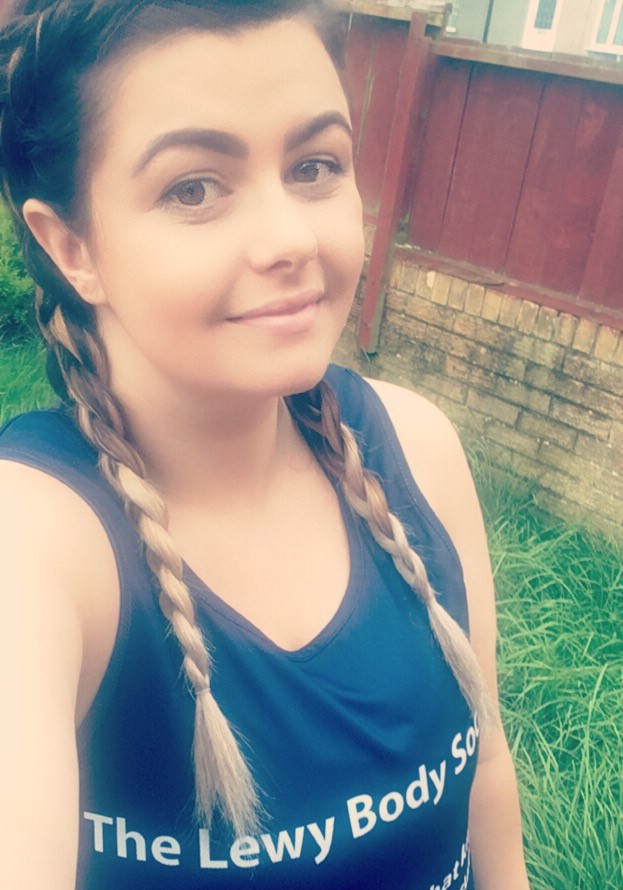 Pam 
Pam is one of those people for whom the word 'retired' seems an inadequate description. After completing her 30 years service in the police, Pam is now dedicating herself to a range of charitable causes. She is active in the Rotary Club, volunteers at a charity supporting homeless young people, and is getting involved with local dementia groups. 
She started raising awareness of Lewy body dementia, and fundraising for us, after her mum Pauline was diagnosed with the condition. She often runs with her son and they have already completed a couple of 10k and half marathons, raising nearly £1000. Living in the Ribble Valley gives Pam plenty of hills and valleys for her training, which sounds pretty exhausting if you ask us…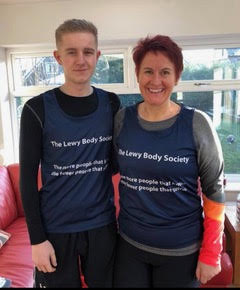 Faye and Danielle 
The sisters, from the North East, chose to support the Lewy Body Society in memory of their nanna Mary. Faye told us about the devastating impact that Lewy body dementia had on their family. It has even led her to change her career, and she is now working on a dementia ward in the NHS, using her own experience to help others.
"This disease is so cruel and it completely broke my family down as we had to sit and watch my nanna battle with this disease and not be able to do anything to help. It was absolutely heart-breaking. There is not much help can be given at the moment for Lewy body dementia, which is why both my sister Danielle and I decided that we would like to raise some money for the Lewy Body Society."
And it's not just the two sisters who are raising awareness through running. Faye's daughter Aemelia organised a run at school during Dementia Week and has donated the sponsorship money to the Lewy Body Society. A fantastic achievement from one of our youngest supporters!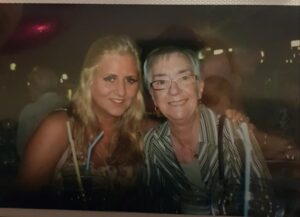 Howard and Alistair 
Howard and Alistair are both members of Farsley Flyers running club in Leeds and have taken part in the Great North Run before. But this time they have a target to break the 2 hour mark and have been training hard.
Dementia has affected both men. Alistair's father-in-law was diagnosed with Lewy body dementia four years ago. This has had a huge impact on the family with his symptoms including hallucinations and delusions, as well as physical Parkinson's symptoms. Alistair told us raising awareness was important to him, as they found little understanding of Lewy body dementia in hospitals and care environments when seeking treatment for his father-in-law
Howard too has personal experience of dementia, having provided support to a family member whose father was diagnosed with dementia, but has since sadly lost his battle. With these experiences, they both decided the Lewy Body Society was a worthy cause to support, and want to try and make a difference and raise awareness of Lewy body dementia.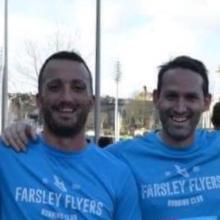 Camilla 
Camilla is running her first half-marathon and chose to support the Lewy Body Society as she has a family member living with the disease.  With the help of her colleagues at the Theatre Royal Newcastle she's smashed her original £500 fundraising target. With her training continuing during her recent holiday in Lanzarote, she'll be ready for the warm forecast for Sunday! 
Good luck to all the runners, and thank you for supporting the Lewy Body Society and helping us shine a light on Lewy body dementia. 
If you would like to run in a future race, or have an idea for a fundraising event, please contact us. We provide a free fundraising vest and a pack with flyers and posters.