Plucky disabled pensioner Diana Baker is taking to the skies for a thrilling wing walk to raise money for dementia research
Daredevil Di, 77, from Oxfordshire, has a paralysed arm due to childhood polio. Undaunted, she'll be strapped to a 1940s biplane, travelling at speeds of up to 140mph and reaching a height of 800 feet – that's more than twice the height of Big Ben! She'll be flying with AeroSuperBatics – the Guinness World Record holding wingwalking team – on the 30th September. 
The money she raises will go to The Lewy Body Society, a cause close to Di's heart. Her beloved husband, Tony Baker, died in 2020 from Lewy body dementia and this year would have been their diamond (60th) wedding anniversary.
Lewy body dementia is still relatively unknown, despite being the second most common type of dementia. "No-one has ever heard of it," says Di. "I want that to change, so that people get diagnosed earlier. It's very personal." 
She helps raise awareness of Lewy body dementia, as well as fundraising in various ways – supporting the charity's work to improve diagnosis and treatment. 
Di refuses to let her disability hold her back. "People often don't even realise that I can't use one arm because it's never stopped me from doing anything," she says. "My motto has always been 'where there's a will there's a way',"
She is well known in Harwell, having lived in the area since the 1960s. A former nursery nurse, she worked for seven years at Harwell School, 15 years at Harwell Nursery School and then back again for eight years at Harwell Primary School. 
Di is actively involved in the community, helping to run mother and toddler groups at St Matthew's Church in Harwell, as well as helping at The Harwellian – the Harwell Sports and Social Club. She's also a volunteer for DAWN, the Didcot and Wantage talking newspaper for the blind. She loves to bake, which comes in handy when making goods for charity cake stalls.
"I always loved working so it's just natural to keep on volunteering. I'm incredibly lucky that I have always loved what I do," she said. "Now I can't wait to get on that plane!"
The Gloucestershire based Charity Learning Consortium, an eLearning organisation founded by Di's son Martin Baker, is paying for the wing walk itself, eliminating any expenses so that all money raised goes directly to The Lewy Body Society. The wingwalk takes place at Rendcomb Airfield in Cirencester.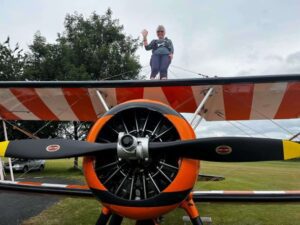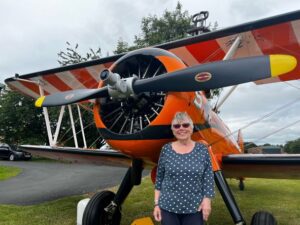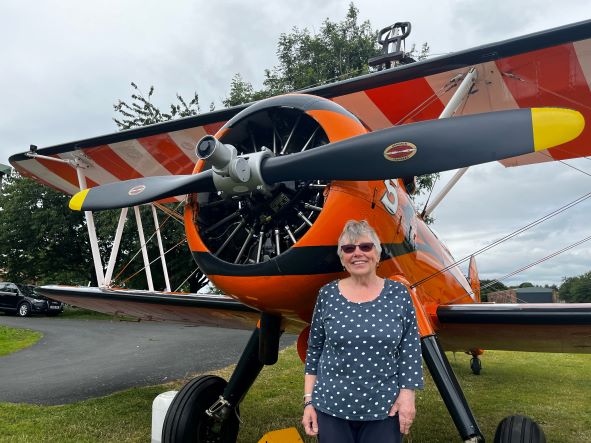 Notes for editors:
Donation link: https://www.gofundme.com/f/dis-daring-wingwalk?utm_medium=email&utm_source=product&utm_campaign=p_email%2B3201-24hr-reminder-v5 
The wingwalk takes place on 30th September at Rendcomb Airfield, The Whiteway, Cirencester, Gloucestershire, GL7 7DF.  This is a private airfield, so any media that would like to attend should please let us know in advance. 
Further general photos are available at https://www.gowingwalking.com/about-us/gallery/ 
The Charity Learning Consortium has more than 250 membership organisations, all using eLearning and other learning technologies to meet the skills needs of their workforce. Bringing charitable organisations together enables the Consortium to offer cost-effective eLearning to more than a million people in the third sector across the UK.